CIES is governed by a Board of Directors and is supported by a wide network of friends, associates, and volunteers.
Board Members
Mr. Baltej S. Dhillon, President
Baltej Singh Dhillon is a retired member of the Royal Canadian Mounted Police (RCMP) and known for being the first Sikh RCMP officer to have won the right to serve with his articles of faith, specifically the turban after a long national debate. He currently serves as the Crime Guns Intelligence and Investigative Group Program Manager in the Combined Forces Special Enforcement Unit of British Columbia. A recognized thought leader in policing and community engagement, he is involved with many community initiatives including Women Rise and One Voice Canada. Dhillon is also a member of the Board of Directors at WorkSafeBC (Workers' Compensation Board of British Columbia) and Dan's Legacy.
Mr. Sarup S. Mann, Vice-President
Sarup S. Mann attended Vancouver Community College and British Columbia Institute of Technology for his education in electronics and telecommunications. In 1986 he started Ansatel Communications Ltd., which is now Western Canada's largest Panasonic telecommunication equipment dealer.
He is a respected community and business leader. He is well known for his political engagement by serving on a number of federal and provincial party Constituency Executive Committees. He has served on the Boards of the Chartered Professional Association of BC, Canada India Foundation, Canada-India Centre of Excellence (Carleton University), and PICS (Progressive Intercultural Society) College. He is a co-founder of the Canada India Education Society and the Dhahan Prize for Punjabi Literature.
Ms. Kirandeep Dhaliwal, Treasurer
For the past number of years, Kiran Dhaliwal has been actively involved in the governance of several arts and culture organizations in BC. She recently served as the Chair of the Vancouver International Bhangra Celebration for three years. She was appointed a council member of the British Columbia Arts Council in 2020. She continues to serve as a Treasurer for the Canada India Education Society which presents the Dhahan Prize for Panjabi Literature, the largest monetary prize for Punjabi in the world.
Kiran has been a Member of the B.C. Law Society since 2004. She articled at a downtown firm and subsequently moved to the Fraser Valley for a few years before returning to the Lower Mainland. She has been practicing law for over 15 years as a civil litigator and is currently employed with a Crown Corporation. She is also involved with the Legal Equity and Diversity Roundtable. She is also on the Board of Directors of the South Asian Bar Association of British Columbia.
Ms. Harinder K. Dhahan, Secretary
Harinder Kaur Dhahan was born in Punjab, India. She immigrated to Canada in 1969 after completing her Bachelor of Arts and Bachelor of Education degrees. After working in the Finance Department as a Payroll Officer for the Association of Neighbourhood Houses, Vancouver for 27 years, she served as a full time Punjabi language teacher at Khalsa School Vancouver from 2005 to 2012.
Since retirement, as a co-founder of the Dhahan Prize for Punjabi Literature, she has served as the Submissions Coordinator for the Prize. Harinder has been supporting the mission and goals of Canada-India Education Society and Guru Nanak Mission Medical and Educational Trust since their inception. She holds a certificate in Yoga Teacher Training program from Langara college, Vancouver, BC.
Mr. Barj S. Dhahan, Executive Director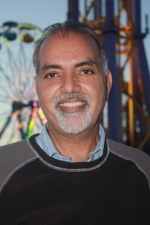 Barj (Barjinder) S. Dhahan is a graduate from the University of British Columbia and founder of the Sandhurst Group of Companies. He has a long record of connecting people and ideas to support inclusive prosperity through education and health care. He has been the driving force behind numerous national and international health, community development and education projects. Dhahan is a founding collaborator, Board member and Chairperson for IC-IMPACTS Ltd. (the India-Canada Centre for Innovative Multidisciplinary Partnerships to Accelerate Community Transformation and Sustainability, University of British Columbia), a founding donor and board member of the Canada-India Centre for Excellence (CICE) (at Carleton University), Carleton University, the Vice Chair of the Vancouver Police Board; British Columbia's representative on the Royal Canadian Mounted Police Commissioner's Advisory Committee on Diversity; and founder of the Dhahan Prize for Punjabi Literature.
Mr. Ajit S. Thandi
Ajit Singh Thandi immigrated from India in 1979 with an electrical engineering background. After further studies at the University of Manitoba, Ajit joined an engineering consulting firm in Calgary. He is currently a Tim Hortons franchisee and a successful real estate investor in Vancouver. He is a founding member of CIES and a founding donor of the Canada India Centre of Excellence, Carleton University. He has been active in leadership roles in numerous charitable organizations including the Vancouver Rotary Club of Fraserview. Ajit is also a co-founder of the Dhahan Prize for Punjabi Literature.
Ajit and his wife, Manjit, have four adult children who are all established in their respective professions in Vancouver, and, as a family they are active in the community.
Ms. Manpreet Dhillon
Manpreet Dhillon is the CEO/Founder of Veza Global, where they celebrate intersectional diversity and thrive on expanding workplace inclusivity.
She has worked with global organizations such as the Organization for the Prohibition of Chemical Weapons, UN Women, Immigrant Employers Council of BC, HR Tech Council of BC, Terramera, and a host of other tech and non-profit organizations. Manpreet has held positions as a Board Member of the British Columbia Institute of Technology Alumni Board of Directors, past Board Member of the Royal Roads University, and has served on various provincial and local boards. Manpreet is a contributing author to Forbes, twice contributing author to Chicken Soup for the Soul and a contributing author to the best-selling Amazon book—365 Days to the Soul.
Manpreet served as the founding manager for the Dhahan Prize for Punjabi Literature. She holds a MA in Organizational Management from the University of British Columbia and resides in Vancouver.
Ms. Kuljinder Shoker
Kuljinder Kaur Shoker is a Financial Controller and Human Resources Personnel with a North American Real Estate Developer with 25+ years of service. She is a co-founding member of two CIES initiatives, the Dhahan Prize for Punjabi Literature and the Canada-India Centre for Excellence, Carleton University. Kuljinder has volunteered with numerous local and international organizations. She acted as the Treasurer for the Magdalene Recovery Society for 3 years, volunteered at the BC Children's Hospital, and supports local community development initiatives, such as youth sporting events.
Kuljinder attended Langara Community College and the University of British Columbia to obtain her educational qualifications. She is fluent in both English and Punjabi and is an avid reader, gardener, and baker.